TrueSight Operations Management 10.x: Service Modeling - Fundamentals
BMC TrueSight Operations Management is an integrated platform that monitors infrastructure and applications from a single interface. It goes beyond monitoring to handle complex IT environments and diverse data streams to deliver actionable IT intelligence. This helps resolve issues before they impact the business.
This course combines classroom instruction with laboratory exercises and simulations to guide students through the basic concepts of Service Monitoring using BMC TrueSight Operations Management 10.x. Students will develop skills in: installing monitoring solution, monitoring services, creating service models and integration of TSOM with BMC Remedy Service Desk.
This training is applicable for 10.0 to 10.5 versions of the product.
Major release:
TrueSight Operations Management 10.x
Recommended Prerequisites:
Course Delivery:
Instructor Led | 8.00 horas
Course Modules
Service Modeling Overview

TrueSight Operations Management Architecture Overview
Integrating TSIM with TSPS
Introduction to the Lab Environment
Configuring Integration Service

Installing and Enabling Monitoring Solution
Service Monitoring Overview
Service Impact Management

Service Impact Management Overview
Services Editor Tab

Visualizing Service Impact Model from the TrueSight Console
Related Skills Assessments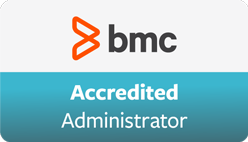 Accreditation is available upon successful completion of this course.
New subscription services
TrueSight Operations Management: Explore Subscription provides free access to the product overview course and other learning materials for a 12-month period. See registration details >
TrueSight Operations Management: Ultimate Subscription provides continuous access to all training material, at one low price, for a 12-month period. See registration details >