BMC Atrium CMDB 9.x: Advanced Training (ASP)
BMC Atrium CMDB 9 provides a complete, accurate, and up-to-date view of the people, technologies, and services that make up your business and IT environments. The BMC Atrium CMDB 9.x: Advanced Training (ASP) course teaches students about what makes a Configuration Management Database (CMDB) useful to the business, how to configure the CMDB, and how to perform routine administrative and maintenance tasks.
This course is designed for Configuration Managers and CMDB Administrators, with the first two sessions focused on learning how the CMDB is used by key IT Service Management functions, such as Asset, Incident, and Change Management. In sessions 3 and 4, you will learn how to configure the environment to meet the requirements of CMDB consumers in the business. The last session covers routine administration and maintenance of the CMDB.
Included in this course is the optional examination for BMC Accredited Administrator: BMC Atrium CMDB 9.1
Note: Interested only in learning about the fundamentals of the CMDB? The first day of content focusing on how CMDB is used by different IT Service Management functions is available separately in the BMC Atrium CMDB 9.x: Fundamentals (ASP) course.
All Assisted Self-paced courses can also be delivered as private, instructor-led courses dedicated to a single customer. Please contact your Education Sales Rep or education@bmc.com for information on this option.
Course Delivery:
Assisted Self-Paced | 40 horas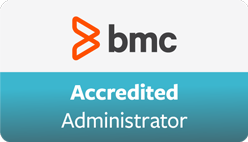 Accreditation is available upon successful completion of this course.