BMC Helix Forecasting as a Service Tool (FaaST)
BMC Helix Forecasting as a Service Tool (FaaST)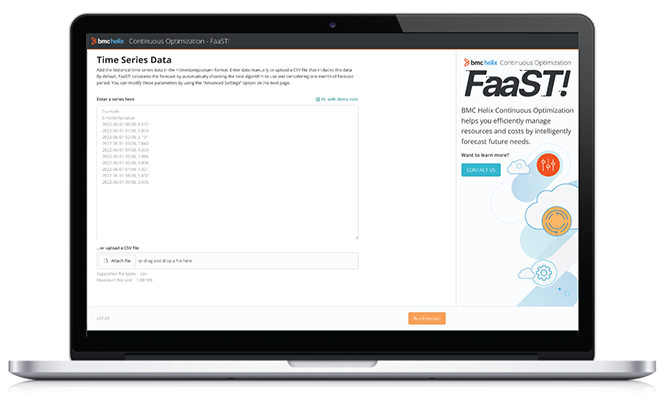 BMC Helix Forecasting as a Service Tool (FaaST!) helps you quickly predict the future values of any time series data based on the previous behavior allowing you to intelligently forecast future resource needs.
FaaST! will provide you with the ability to:
Accurately forecast any system metric, KPI, business driver and any other time-series data
FaaST will allow you to upload a file of time series data to compute an initial projection considering items such as seasonality and trends
FaaST calculates the forecast by using machine learning to automatically choose the best algorithm to use
BMC Helix Continuous Optimization, sold separately, extends the FaaST capabilities to multi-variant data for cloud deployments and on-premises data centers using AI/ML modeling. Watch this video for a brief overview of the product.
To learn more, see BMC Helix Continuous Optimization