BMC AMI Ops Insight is a forward-looking tool that helps mitigate issues before they become business problems. Using machine learning it learns what normal is, detects anomalies, diagnoses the probable cause, and minimizes time to remediate.
Staying ahead of disruptions
Today's rapidly changing environments demand more from your team and hiccups in the system or processes can cause havoc. Being able to stay ahead of issues helps teams manage key issues including:
One exception at a time: If problems haven't been seen before, there is a chance that they won't be detected with existing tools, thresholds, and alarms until it's too late.
Always waiting for the call: By the time the phone call is received, or your monitor alarm sounds, it's too late and it is suddenly firefighting mode.
Tactical vs Strategic: Teams spending a lot of time in firefighting mode may or may not get day jobs done and more strategic work such as planning gets delayed.
Keeping up with change: Fast-moving system changes make it hard to keep up with understanding performance profiles, much less stay on top of key thresholds and alarms.
Retirements mean a loss of expertise: Traditional tools have a steep learning curve for new hires to become fully productive in current environments with existing tools.
Detect problems before they impact your business
Managing the mainframe has never been more complex. Companies are being tasked with better performance and 24x7 availability while also addressing workforce changes that are resulting in a great loss of expertise. BMC AMI Ops Insight delivers:
Immediate value: Install, add your data, and begin realizing immediate value with minimal configuration.
Customized learning: Deep and broad data is consumed as it is always learning and getting smarter to support your complex system.
Reduced time to detection: Problems are detected, probable cause is diagnosed, and notifications are sent before they have impact.
Fewer false positives: Multivariate analysis looks across all the KPIs simultaneously so that nothing is missed.
Built-in industry expertise: The built-in domain expertise knows which metrics to watch—no trial and error.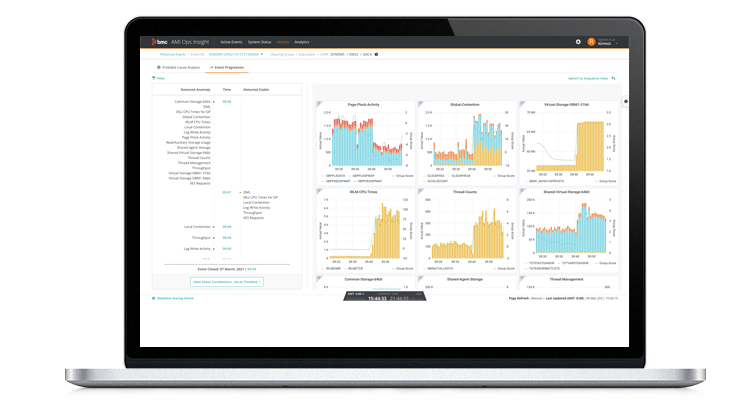 "We had a real world issue with one of our applications where we were dropping transactions, the BMC AMI Ops Insights product was able to help us drill into the handoff between MQ and CICS to really understand what was going on and allowed us to fix the issue and drive overall greater customer satisfaction as well as processing more transactions." — Vice President, Systems Platform Engineering at a Global Financial Services Company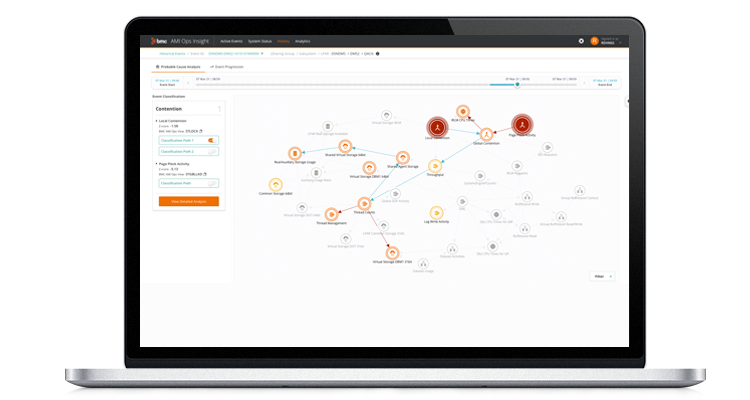 Understand normal. Find anomalies.
BMC AMI Ops Insight detects and diagnoses issues before they become business problems.
Proactive alerts: Get relevant notifications when a potential problem is identified.
Multivariate analysis: Looks at cross-domain metrics simultaneously so that nothing is missed.
Domain expertise: Data science and domain expertise are built in for greatest detection value, reducing guesswork to determine important metrics and not wasting costly MIPS by collecting and evaluating extraneous metrics.
Easy to install, easy to use: Minimal configuration required; simply add your data and realize immediate value with out-of-the-box intelligence.
Always learning: BMC AMI Ops Insight is always learning, using deep and broad data sources so it gets smarter to support your system.
Actionable insights
Along with early detection, BMC AMI Ops Insight diagnoses the probable cause and provides actionable insights with enough details about the condition for you to quickly resolve it.
Severity (both current and projected): Severity is defined as the deviation away from normal.
Trend: Is it getting better? Worse? Staying the same?
Categories: A projection may have one or more categories. These are things like Contention, CPU, Throughput, Real Storage, Virtual Storage, Log I/O, and Workload.
KPI Groups: Each category notification will be driven by KPI groups – that is, univariate metrics combined together and watched as a single metric – all to reduce false positives.
Location: What subsystems, data sharing groups, or members is this projection impacting?
Time: When did it start? How long has this been going on?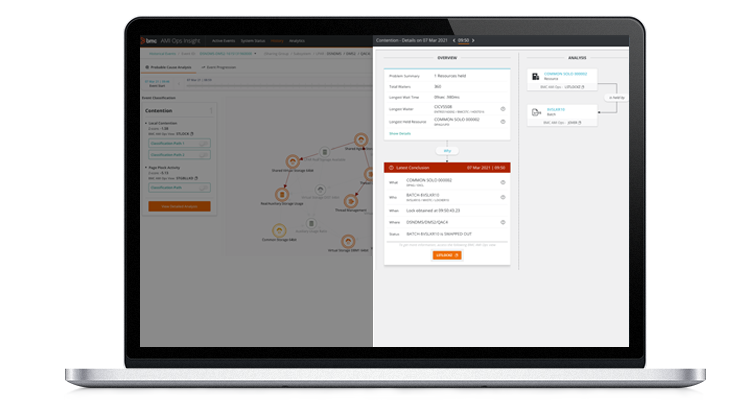 Resources
Read
Datasheet:
White paper:
Analyst research:
E-book:
Experience
Videos:
Webinars:
Podcast:
Infographics:
Explore
Technical details:
Related products and solutions: