Server management and automation for speed and performance
Automate server management for better security and compliance. TrueSight Automation for Servers allows you to quickly and securely provision, configure, patch, and maintain servers.
Achieve compliance with pre-configured policies for CIS, DISA, HIPAA, PCI, SOX, NIST, and SCAP
Increase IT efficiency by up to 87% with an intelligent, closed loop for automated remediation
Drastically reduce the time required to assess the impact of change and develop remediation plans
Reduce deployment failures, and manage complexity and scalability across environments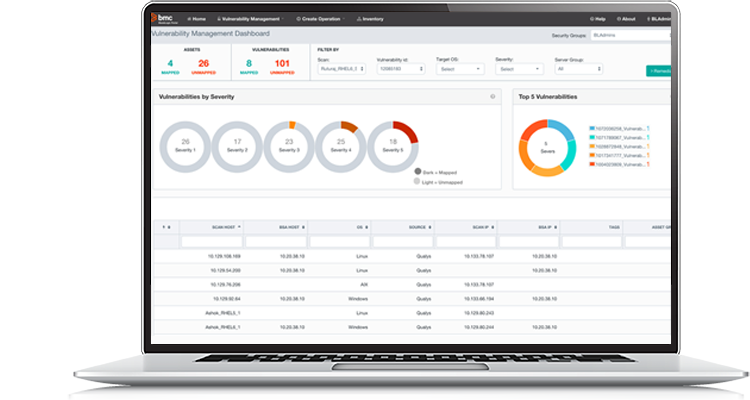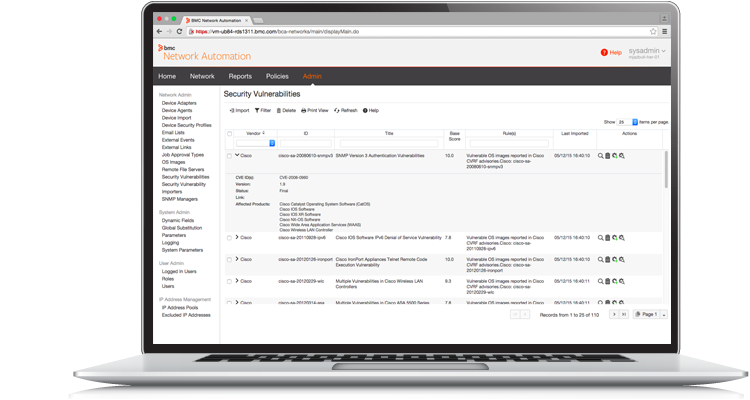 Network management and automation to safeguard your physical and virtual network
Network automation and management software reduces network outages and downtime by automating configuration, change, and compliance processes. TrueSight Automation for Networks helps IT operations:
Natively detect network vulnerabilities without the need for additional hardware
Perform scan-less audits across a diverse network environment without degrading performance
Remediate security risks and non-compliant devices in minutes
Guarantee compliance with best practices and regulatory standards
Data center discovery mapping for a holistic view of your IT systems and how they deliver business services
BMC Helix Discovery automates asset discovery and application dependency mapping to build a holistic view of all your assets, multi-cloud services, and their relationships.
Minimize change risks by empowering your Change Advisory Board with trusted dependency data to evaluate change impact
Restore service faster by replacing dependence on tribal knowledge with reliable configuration and relationship data
Ensure compliance and secure data center operations
Prevent outages when moving data center assets for consolidation, multi-cloud, and virtualization projects